2 eggplants
2 medium-sized onions
1 tablespoon ginger garlic paste
1 pinch of chili powder
400 ml of coconut milk
1 tablespoon tamarind paste
2 tbsp raw peanuts
5 sprigs of fresh coriander
Coconut oil
Salt
Pepper
Spices used
in this recipe
Good news!
We are delighted to share a lot of recipes using our spice vadouvan right here. We will help you discover the flavor of this unique spice mix that you might not know about otherwise.
For starters, let us share this South Indian inspired recipe that uses this spice having its origins in Tamil Nadu, India. The same region where it's traditionally made and our production office is situated.
Thanks to this recipe, you can now bring South Indian flavors onto your plate and resist the call of traveling. How cool is that?
Here's our Eggplant curry with coconut and peanut vadouvan recipe that will delight your taste buds instantly. You will be pleasantly surprised by how the divine coconut, vadouvan, and peanuts complement each other in this sublime association!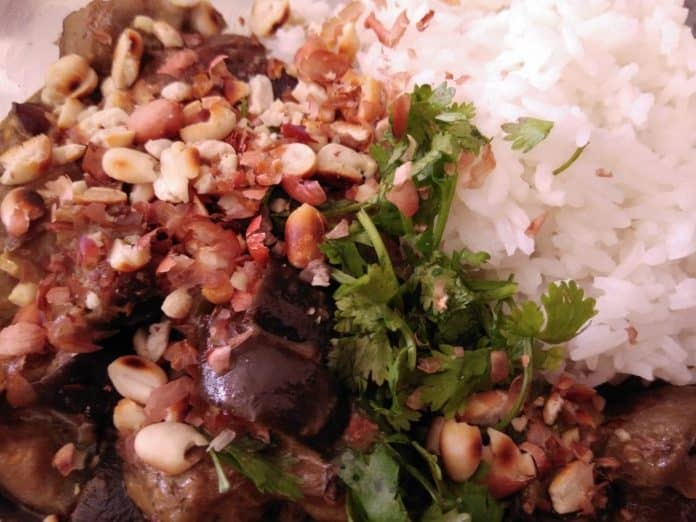 Cut the eggplant into medium cubes.
Fry them in a little bit of coconut/ vegetable oil until they are golden and tender, then set aside.
In the same pan, add the onion and ginger masala, and cook for a few minutes.
Pour the coconut milk, tamarind, and vadouvan, then simmer for 5 minutes over very low heat.
Meanwhile, cook white rice as per your servings. (Note: Use two cups of water for one cup of rice).
Dry roast the peanuts in a pan, then coarsely crush them with a pestle and set aside.
Add the roasted eggplants to the coconut curry and vadouvan base, leave for 10 minutes on the heat, stirring gently.
Serve the eggplant curry with hot steamed rice on a plate.
Sprinkle over some roasted peanuts and chopped cilantro for garnish.
Bon appétit